Koala Mattress Review
Koala Mattress Review Verdict
Weight
Petite
Medium
Heavy
Koala Mattress Review Koala mattress

Koala Mattress:
Does sleeping in your bed seem like a nightmare? The mattress brand Koala, named after Australia's famous sleeping mammal, has developed a simple and ecologically responsible approach to assisting you in getting a better night's sleep. Unlike most other companies, Koala strives to simplify the selection by offering just the Mattress. The business now sells a matching wood bed foundation (beginning at $800) and various other bedroom necessities such as pillows and linens. You can purchase Koala mattress online through the brand's online shop. If you reside in a metropolitan location, you may be able to have your new mattress delivered within 4 hours if you order early enough.
What is a Koala Mattress?
Is sleeping in your bed a nightmare for you? Koala Mattress, named after Australia's famed sleepy animal, has taken a practical and environmentally responsible approach to helping you get a better night's sleep.
The Koala mattress is one of Australia's most popular mattresses. They were one of the first companies in the country to revolutionize the direct-to-consumer mattress-in-a-box market. Unlike most other brands, Koala wants to keep things simple by only offering the Mattress. A matching timber bed foundation (beginning at $800) is also available, and some other bedroom basics like pillows and sheets. The Mattress is available for purchase on the company's website. If you reside in a metro location, your new mattress might be delivered in as little as four hours if you order early enough.
This video made by the company themselves shows a closer look at the products. Customers generally like their mattress, but with new competitors offering more traditional materials, will they be able to maintain their position as the best?
Design & Construction
What are the materials used to make Koala mattresses?
Koala switched from a three-layer design to the present two-layer one in 2016. Dunlop foam is a more supportive mattress and more breathable as compared to latex and bamboo charcoal memory foam. The 6cm "Kloudcell" top comfort layer ensures a more comfortable sleep, while the Eco foam support layer is designed to be firm to add durability. The top-knit is constructed of a polyester/Eucalyptus blend (also known as TENCEL).
Friendly to the Environment
The Koala mattress is an environmentally friendly product. Their foams have been approved by GECA (Good Environmental Choice Australia). The company has gone above and above to ensure its product satisfies stringent requirements and passes high-quality assurance tests. The GECA certificate is only given to products that meet the most stringent environmental requirements. The Mattress is constructed without and does not contain the following materials, resulting in nearly zero emissions:
Substances that deplete the ozone layer (methylene chloride)
Heavy metal is a genre of music that is characterized by (mercury and lead)
Phthalates are a type of phthalate
Their mattress foam was studied throughout its manufacturing process, and the product's production was environmentally friendly and ethical, with a lower impact on human health.
Mattress Layers: memory foam and foam mattresses
So, what is the composition of the Koala mattress? The bed has two layers beneath the cover. Kloudcell is on top (comfort layer). The open-cell foam architecture of this layer is one of its most distinguishing features:
It's a 6cm thick layer.
Polyurethane foam is used to make this product.
Pressure is absorbed.
It is made to allow air to circulate throughout the mattress.
Allows the mattress's heat to escape.
The second layer is the mattress's Eco foam support layer, which consists of the following components:
It is a 16-centimeter thick ultra-resilient foam
Provides additional assistance
Ensures the mattress' lifespan
Weight and thickness of a Koala Mattress
The Koala is comparable to other all-foam mattresses, weighing around 23.6 kg (for a queen-size). Because it is lighter than most hybrid mattresses, you can move it by yourself. While it comes to a case, we recommend enlisting the help of a mate or a friend to get it inside the room. It will be heavier and more difficult to move once it has been unpacked. Before you open it up, try to position it as much as possible.
It just takes a few moments for a mattress to inflate after it has been unpacked fully. When completed, all sizes should measure 23 cm in height. That isn't quite the standard thickness in our file. However, robust crossbreed designs skew this value. 23-centimetres is plenty for all-foam mattresses to assist and soothe sleepers. It's best to contact customer service if you see any plunges or indents following the extension.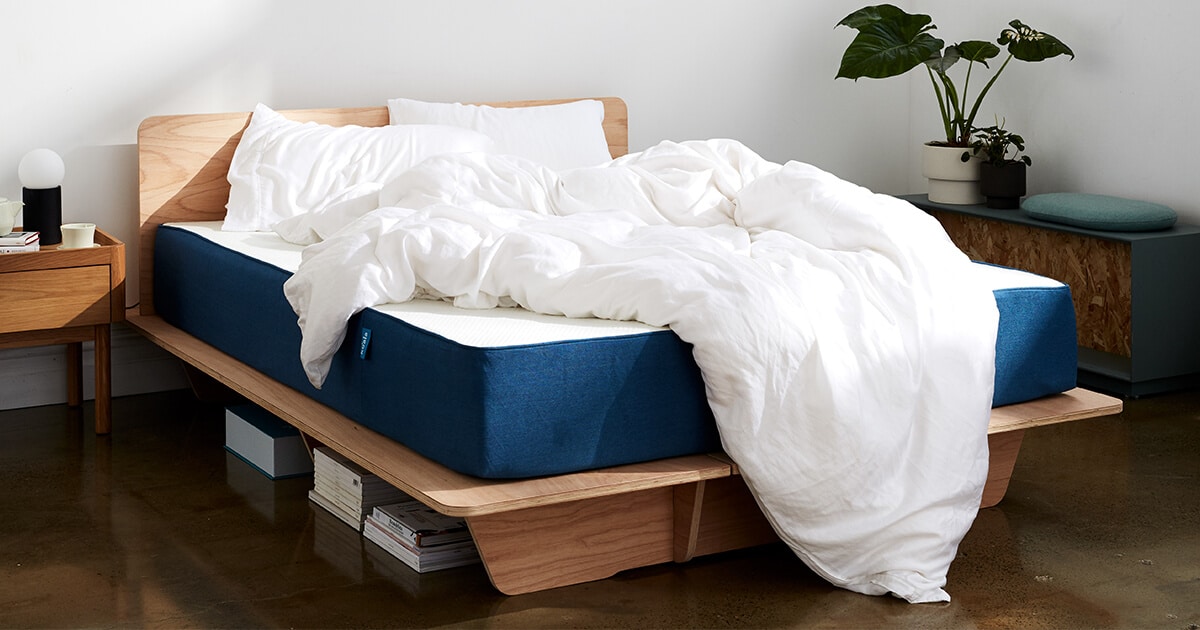 Pricing
Pricing
Size
Koala Mattress
Koala Calm As Mattress
Koala Soul Mate Mattress
TWIN XL
$ 950
$ 1,150
N/A
FULL
$1,000
$ 1,350
$ 2,350
QUEEN
$1,050
$ 1,650
$ 2,700
KING
$1,250
$ 1,950
$ 2,950
Firmness & Feel
Firmness & Feel
What makes Koala Mattress the best mattress in Australia?
The Koala Mattress' top cover is constructed of Polyester and Tencel® fabric, while the sides (and beneath fabric) are made entirely of Polyester. This cover is removable and washable. However, it has a rough feel to it.
The 'dual foam' layer architecture under this outer cover includes Koala's 'Kloudcell' foam (which works as the top comfort layer) and support foam. Our experts gave it a 'medium-firm support' hardness rating and a 6.5 out of 10 on the firmness scale (with ten being the firmest). Please remember that our firmness ratings are only a guide and do not always correspond to comfort.
The reality is that this mattress is made up of two pieces of foam, despite Koala's portrayal that it is pretty elegant. Hence, it isn't inherently wrong, but we found the overall design somewhat dull.
The Koala Mattress has a bouncy, rubbery feel to it that doesn't appear to be stable, especially while sleeping on your side. It provides adequate pressure relief, but we were unconvinced by its amount of spinal support or its durability.
How firm is the Koala mattresses?
Making it easy to buy a mattress by streamlining alternatives (in Koala's instance, with a one-firmness-for-all design) helps restrict finicky sleepers. Koala claims that their research and focus groups helped it obtain the stiffness level "exactly right."
They'll provide you with a 120-night risk-free trial so that you may try the mattress at home. If you don't enjoy your new bed after four months, you can return it for a full refund.
Return shipping is free for Melbourne, Sydney, Adelaide, Brisbane, and Perth residents if you want to return it. If you live outside of specified places, you'll have to pay for shipping to the city closest to you.
Read more about the features and specifications on Koala Mattress in the Ecosa vs Koala Mattress Comparison.
Mattress Performance
What's it like to use a Koala mattress?
Koala mattress is made for "Everyone; and all shapes and sizes". It "distribute weight equally and hence, does not sink or bend in the center." And you'll find lots of user reviews online claiming that the support helps to relieve back discomfort. It makes the Koala perfect for those who sleep on their backs, sides, or stomachs. But, again, everyone is different, which is part of the fun of trying the Koala without risk. What do you have to lose?
Coming from a standard spring mattress with adaptive foam springs, my initial impression of the Koala mattress was how firmer it is. The Koala is considerably lower in height and closer to the floor without my previous topping. For a foam mattress, the edge support is adequate. Compared to a standard mattress, edge sleepers (and those who pull their shoes on at the side of the bed) will feel increased box edge droop.
All of the above took some getting used to, but it's now the new normal. The Koala bed is one of many peoples' favorites. It conforms just enough to be comfortable, but not so much that you sink in and lose support. The Koala does seem warmer as compared to the old pocket spring mattress. The Koala mattress's anti-transfer characteristics were very appreciated in many families. Getting out of bed in the middle of the night to soothe your child has suddenly gotten a whole lot simpler. A secure fit on your bed foundation that prevents sliding movement is also essential.
It's worth mentioning that Koala does not advocate using a mattress covering their mattress if you have small children. This is because you already have a detachable, hand-washable cover with a bottom zipper and because it would limit ventilation. You may even utilize your favourite old topper or electric blanket, but the same concerns with breathability may arise.
All Koala Mattresses have:
Anti-Slip Bottom – this little gizmo reduces the movement of the mattress when placed on the bed frame.
Anti-Bacterial Treatment – all mattresses have antimicrobial additives that help prevent the conditions that microscopic little monsters love.
CertiPUR-US® – all our mattresses are tested to ensure they are made without formaldehyde, are low-VOC, and are free from nasty chemicals.
Sleeper Type Analysis
Back Sleeper
Recommended
Koala offer a range of firmness options, while gravitating towards the medium-firm profile with the ability to get more support by flipping the top comfort layer. Overall, Overall, back sleepers were happiest, with stomach and side sleepers close behind
Stomach Sleeper
Recommended
These mattress are best for those that prefer a supportive feel in their mattress. If you are an average stomach sleeper, this mattress will likely work well for you. Koala offer a range of firmness options, while gravitating towards the medium-firm profile with the ability to get more support by flipping the top comfort layer.
Side Sleeper
With good firmness and excellent strength this mattress is not recommended for side sleepers.
Body Type Analysis
Petite
However, individual comfort level often depends on weight. Smaller side and stomach sleepers may find it too hard, especially if they're used to a spring mattress.
This mattress is best for heavy sleeper with good support and high-level firmness
Mattress Performance
The Brand-New Koala Mattress
Price:
Single: $ 750
King SIngle: $ 880
Double: $ 1,000
Queen: $1,050
King: $ 1,250
Review on the New Koala Mattresses
The New Koala Mattress is a beautiful foam mattress that is non-toxic and environmentally friendly. It has a convenient, customizable option that allows you to modify the stiffness levels to fit your personal preferences.
The New Koala Mattress, as the name suggests, is a redesigned version of the immensely successful (Original) Koala Mattress, which was first released in 2015.
The First Koala Mattress
The New Koala Mattress is the entry-level model in Koala's new mattress lineup, including the mid-tier Koala Calm as mattress and the top Koala Soul Mate mattress.