Ecosa Mattress Review
Ecosa Mattress Review Verdict
Weight
Petite
Medium
Heavy
Making a purchase especially that of a mattress does feel like an expense. But with the right promo and coupon code from websites such as Super Saver Mama, you can for sure change the perception of the expense. Getting a good night's sleep is an investment. You can find the best coupon code for the right Ecosa Mattress for you, It is one of the leading mattress brands and you can be assured that it is the right brand you put your money in.
Ecosa Mattress features Adjustable Firmness, a Comfort Layer, Support Foam for their all-foam mattress, and according to many Ecosa Mattress Reviews, they are happy with the results and can also redeem Same Day Delivery.
What factors should I consider before purchasing a mattress?
The realization of needing a new mattress is like embarking on a new shopping journey. The sheer quantity of choices in the market, as well as the plethora of marketing buzzwords used to describe mattress "technology," can make you feel as if you need a Ph.D. to make an informed decision. While you most certainly don't, doing some research ahead of time can help you avoid purchasing a mattress that makes you feel like lying on quicksand or a bed of marble. This Ecosa Mattress review will provide you with the right information to pick out the right mattress for yourself.
We have done our best to bring you the real-life Ecosa Mattress review to give you the right idea of what the Ecosa experience would be. Everyone is different and is dealing with sorts of aches and pains that need to be taken into account. Though for proper medical guidance we recommend you to visit a doctor and then make a decision.
What should I look for in a mattress?
Unfortunately, there is no one-size-fits-all response to this subject. There are several elements you should base your purchase on. Only when you're sure that you have found the features you had been looking for then make your purchase. For example, if your preferred sleeping position is on your side, a medium mattress may be appropriate. What if your companion prefers to sleep on their stomach, which requires a firm mattress?
There's also the issue of mattress materials to consider. If you sleep hot or suffer from allergies, you'll want to look for a mattress that doesn't trap heat or dust. Some individuals prefer soft spring mattress and some can only sleep on a very firm mattress.
Then there are your personal preferences where you could like the new box mattress technology. It is delivered and available to be purchased from the store.
Design & Construction
Design & Construction
What is the finest mattress material?
Memory foam is a type of foam that is used to cushion the body which can be found at Ecosa Mattress.
NASA developed memory foam in 1966 to cushion test pilots in flights as they readied for take-off. You don't have to be an astronaut to benefit from its cushioning properties, though. This dense foam offers a medium level of softness and conforms and molds to your body's contour to cradle you while you sleep.
Memory foam pushes you deeper into the bed, leaving a transient imprint of your body in the foam. However, because it is designed to spring back, the material should not sink or collapse with time. Retailers frequently refer to memory foam as temperature-sensitive visco-elastic foam. This means memory foam layer is designed to sense body heat and weight and adjust to provide comfort.
Advantages
The advanced capacity to adapt to your body shape helps ease discomfort by removing weight and pressure from the joints.
Allergy-friendly, thanks to the dense material's resistance to dust, mites, and mold.
Drawbacks
If you're a combination sleeper or toss and turn at night, memory foam can feel confining. Because of its tremendous conforming ability, it encases you in a kind of open cocoon.
Memory foam is not the ideal choice for hot sleepers because of its tightly packed cell structure, which allows it to trap heat and absorb sweat.
After the manufacturing process, some 'off-gassing may occur, which means the mattress may emit a mildly unpleasant chemical odor. The impact, however, is only brief, lasting only a few weeks at most.
Buying a Memory Foam Mattress: A Buyer's Guide
For hot sleepers, the memory foam mattress with the gel particles infused in it is the right choice, the open-cell technology allows them to sleep without sweating away. These advancements assist in dissipating heat away from the body, resulting in a cooler and more comfortable sleep.
Memory foam mattresses are meant to be soft and comfy, but it can take up to 2-4 weeks for them to soften. You may have to wait the full 4 weeks if you choose high-density foam. You can help soften it by raising the warmth in your room or even walking on the bed, as these activities provide the mattress with additional 'practice' in responding to heat and weight.
While a memory foam mattress is inexpensive, it is preferable to invest in a high-quality mattress. Cheaper models may use low-density or poorly constructed foam that sags and sinks over time, eventually ceasing to spring back. It's not worth it to invest in a memory foam mattress that affects your back now or in five years.
Latex
The combination of natural latex from the sap of the rubber tree along with the synthetic latex is used to produce the right feel of the mattress. Because the production process normally includes the addition of some chemicals, 100 percent natural latex mattress is uncommon. As a result, the majority of latex mattress is a mix of natural and synthetic latex.
Advantages
The tough material of a latex mattress will provide a great level of support because it is supportive and resilient. It's a wonderful choice for stomach and back sleepers because of this.
Latex isn't affected by temperature, and its pinhole structure (seen on the right) allows air to circulate. As a result, a latex mattress is good news for hot sleepers because it doesn't absorb heat and may keep you cool regardless of the season.
Drawbacks
While latex mattress is good in terms of support, their stiff and rubbery surface makes them uncomfortable to sleep on.
The bulk of latex mattresses on the market are combined with synthetic latex, which is created from petrochemicals, so all-natural latex mattress is unusual. Allergies can occur as a result of this.
For the first few weeks after purchasing your mattress, you may notice an unusual odour. This is referred to as offgassing, and it occurs when the VOCs (volatile organic compounds) contained in synthetic mattresses slowly leak.
Buying a latex mattress: some pointers
Latex mattresses are frequently referred to as Dunlop or Talalay latex by retailers. These are the terminologies that are used to characterise various industrial processes. Although there isn't much of a difference, Dunlop is generally denser. This makes it more resilient, and when combined with a firm comfort level, it can produce a more solid surface than Talalay models (though it won't necessarily be firmer – the mattress feel is still important).
The Fern Mattress, for example, is constructed entirely of certified natural latex.
Pocket Spring Mattress
Thousands of springs are contained in vertical rows of pockets in the core of these mattresses. Because the springs are divided into discrete pockets, support is distributed evenly over the mattress.
This means that if two people sleep in the same bed, they will be supported by various pocket spring 'zones.' The springs in the other sleeper's zone are unaffected if one sleeper moves. Less companion disruption during the night is the overall benefit. (This is in contrast to a standard innerspring mattress, which has a single set of coils across the length of the mattress, making it a case of 'when I move, you move.
Advantages
Reduce partner disruption as much as possible, especially if one of you is prone to tossing and turning during the night. The pockets are divided into zones, each of which can sustain two sleepers independently. Because the pockets beneath them do not move, if one sleeper shifts, the other will not be affected.
Because there is lots of room between the coils and pockets, air may freely circulate. As a result, pocket spring mattresses are cooler than memory foam mattresses to sleep on.
Drawbacks
The springs and other metal components that make up the bed frame might rust, reducing the bed frame's longevity.
Buy Now On ecosa
Pricing
Size
Single
King single
Double
Queen
King
TWIN
$799
N/A
N/A
N/A
N/A
TWIN XL
N/A
$899
N/A
N/A
N/A
FULL
N/A
N/A
$999
N/A
N/A
QUEEN
N/A
N/A
N/A
$1,099
N/A
KING
N/A
N/A
N/A
N/A
$1,199
Firmness & Feel
Hybrid Mattresses
These mattresses, as their name implies, combine materials like a latex or pocket spring base with softer memory foam comfort layers. As a result of the various materials used in their construction, these mattresses will have a wide range of benefits and drawbacks. The Sleeping Duck mattress, which has the highest rating on Product Review, is a hybrid. The bottom layers are made of latex and memory foam, and the comfort layer is made of bamboo cloth.
In one way or another, most mattresses are hybrids. The base/core is generally referred to as the mattress's'technology,' while any comfort layers or quilting refers to the buffer between your body and the mattress core. Look for breathable, comfy, and allergy-friendly materials. Cotton or bamboo, for example, are frequently suitable.
These mattresses are frequently more expensive than other mattress kinds because they strive to combine the finest features of each mattress layer.
How about mattress dimensions?
You'll need to choose a size if you're getting the complete shebang in terms of bedding (bed frame and mattress, or possibly an ensemble).
The first step is to take measurements of your space. While shops may advise purchasing the largest bed your room can accommodate, it is preferable not to overcrowd your space with a giant bed. Other bedroom furniture, such as a desk or bedside table, can be accommodated in this manner without the room feeling claustrophobic or cluttered.
If you're adding other, more sophisticated design components to your bed, such as a tall headboard, you might want to go with somewhat lower mattress size.
The mattress should be large enough to accommodate the persons who will be sleeping on it! Your mattress should be at least 10-15cm longer than the tallest person sleeping on it. If you'll be sleeping next to a sprawler or if you'll have kids or pets crawling into the bed with you on those lazy Sunday mornings, go up a size.
In Australia, the most typical mattress sizes are single, double, queen, and king, though many manufacturers and mattress series offer variations such as king single and super king.
Australia's Mattress Size Guide
92 x 188cm (single)
107 x 204cm (King Single)
138 x 188 cm double
153 x 204 cm (Queen)
183 x 204 cm (King)
204 × 204 cm Super King
I'm not sure how long I should keep my mattress.
Because mattresses can be expensive, you'll want to be sure that they're comfortable enough to support your arms and legs for many years.
Mattress warranties normally run from 10 to 20 years, with the average mattress lasting 8 to 10 years. This means that purchasing a mattress with a longer guarantee isn't absolutely necessary.
If you give your mattress some TLC every now and then, it will last longer. This includes turning and turning your mattress on a regular basis to allow it to air out and prevent it from becoming limp or saggy in areas where your body likes to sleep.
A mattress protector (seen on the right) can assist keep your mattress clean and dry as well. This removable piece of bedding acts as a barrier between you and the mattress. This keeps sweat, grime, skin cells, and spills from soaking into your mattress. This daily grit will be absorbed by the mattress protector, which you can easily remove and wash.
Choose a mattress with a removable, washable cover, such as the Pure Comfort Latex Mattress's natural latex and Tencel cover, to keep your mattress healthier and more hygienic.
If your mattress isn't even eight years old but you've seen sagging or lumps, or you're waking up in agony, it's time to say goodbye. While commencing the search for a new mattress is a top priority on your 'To-Do' list, it isn't worth the health risks that an old and malfunctioning mattress poses.
What about a boxed mattress?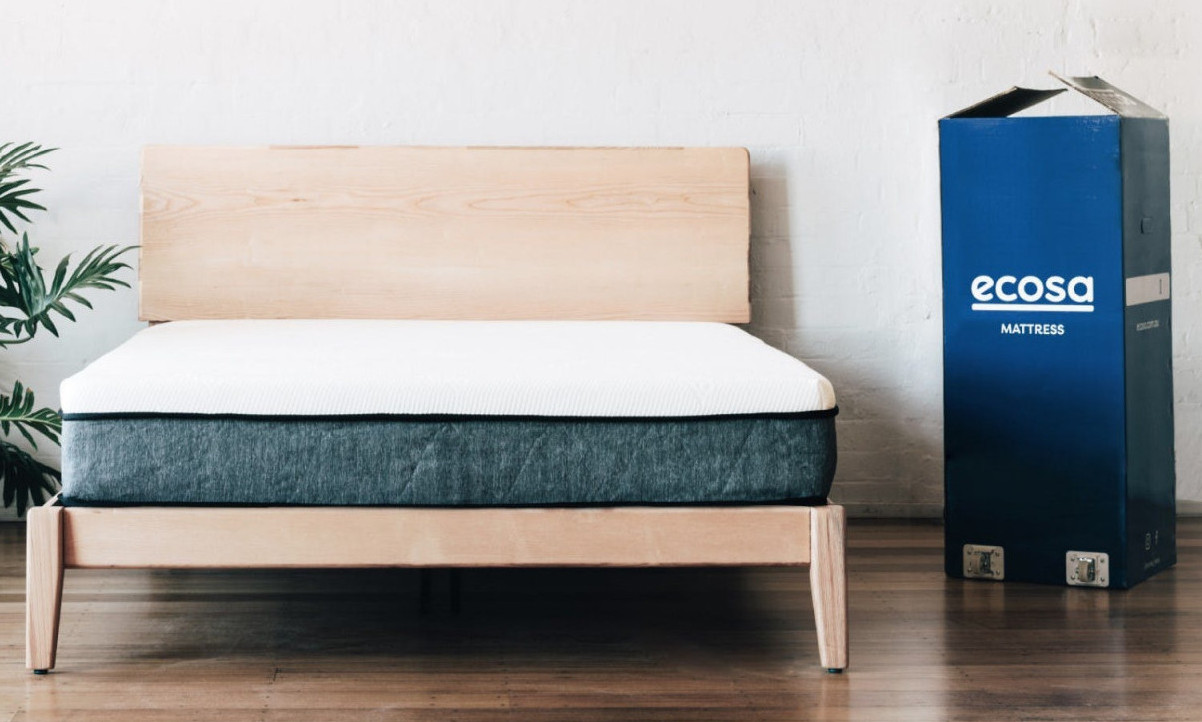 Over the last few years, mattress-in-a-boxes have revolutionized the mattress industry. You don't have to go to a showroom and fight for a chance to try out new mattresses. The goods is vacuum-sealed and sent to your door once you complete an online purchase.
The Sleeping Duck Mattress (2017 Award Winner) and the Ergoflex Memory Foam Mattress are two of the greatest mattresses on ProductReview, both of which come in a box (2020 Award Winner).
Here are some advantages and disadvantages of shopping for a mattress in a box in a different way:
Advantages
A mattress in a box is less expensive than one purchased in a store or showroom. There are no markups or fees to pay to the middleman. A queen-sized mattress in a box costs around $1,000, whereas a store-bought equivalent like a Sleepmaker or Sealy mattress can cost thousands of dollars.
Quick and simple – a mattress in a box usually arrives in 1-2 days and includes additional benefits such as free shipping.
There is less pressure to make a quick decision, as you may find in a store with an eager salesperson lurking around.
Thanks to a trial term ranging from 30 to 100 nights, you have a variety of return choices. If you don't like the feel of the mattress, this normally comes with a money-back guarantee.
Mattresses that have been returned are typically donated to a local charity. Some businesses have a designated charity, while others allow you to choose your own.
Drawbacks
You can't try a mattress before you buy it by lying down on it.
When it comes to setting up your new mattress and getting rid of your old one, you're on your own. In comparison, department stores and other businesses may offer to do this for you; however, this is almost certainly included in their high price.
Mattress Performance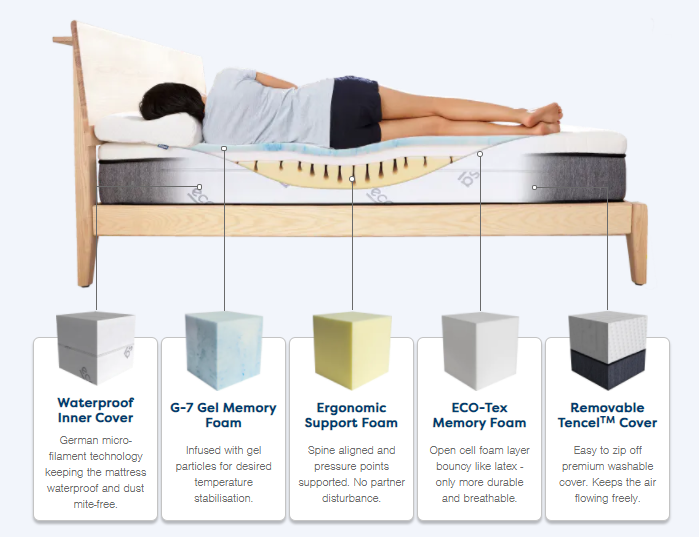 What is your sleep position?
Those who sleep on their sides
A medium-soft mattress is usually the best choice for you if you sleep on your side. The plush material will give your hips and joints room to move around without crushing them.
Those who sleep on their stomach
To avoid neck and back pain, this sleeping position needs extra spine support. As a result, buying a firm mattress, or one on the firmer end of the comfort scale may be beneficial to stomach sleepers.
Those who sleep on their backs
To support your spine without feeling like you're sleeping on a piece of wood, choose a medium to medium-firm mattress.
Those who sleep in a combination of positions
A medium-firm mattress is an ideal option for sleepers who alternate between the above positions. This gives the ideal combination of support and comfort, and you won't sink into the mattress uncomfortably as you change positions throughout the night.
If you like the following things, you'll enjoy Ecosa:
Want a firmer mattress with a variety of textures – Within this single product, there are three hardness levels, all of which are firmer than what we consider Medium. You can choose between a contouring memory foam feel, a bouncy latex-like feel, or a firmer poly-foam feel, depending on what works best for your body.
Are you a light sleeper? The motion isolation in this mattress is remarkable, so those who wake easily should be able to sleep soundly without being disturbed by a restless spouse.
Have allergies? This brand has a machine washable cover that will help you keep your sleeping environment clean, as well as a second cover that will keep out bacteria-breeding moisture and potential dust mites.
Ecosa may not be for you if you:
If you want a softer mattress, this brand is still on the firmer side of Medium in its softest configuration, which is wonderful news for people who prefer this sensation, such as exclusive stomach sleepers or those who are a little heavier. Harder foams, on the other hand, have a propensity to soften over time. Other brands may be more suited to exclusive side sleepers who require a little extra pressure alleviation.
What are the various mattress 'feels,' or levels of comfort?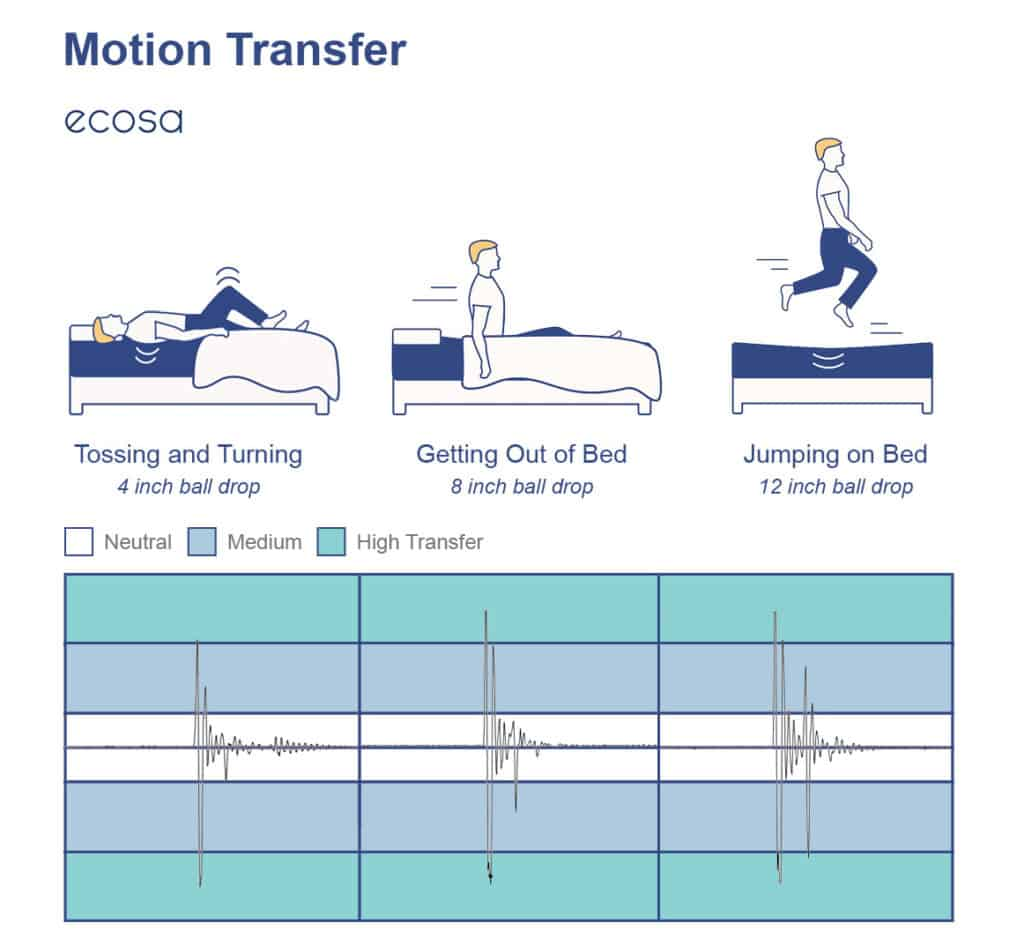 A mattress can provide a variety of different levels of comfort. Soft (or fluffy), medium, and firm are the most common. Variants such as medium-soft, medium-firm, very soft, and extremely firm are available from many brands.
Soft
These mattresses, often known as soft mattresses, offer you the sensation of sinking in. In the upper layers and the core, you would find the softer layer such as the memory foam. The soft mattress has the most 'give' of all the mattress firmness categories since they cradle and mold to the curve of your body. This can assist relieve strain on joints (particularly the hips, knees, and shoulders), which would otherwise dig into a hard mattress surface.
You might find the soft mattress soothing like floating on clouds, it offers the least amount of support, particularly spinal support. This might cause sagging in your back and hips, resulting in morning pain. Soft mattress is less resilient than other mattress types, as they are comprised of foam or other high-yielding materials. As a result, they will wear out faster, requiring you to replace them more frequently than other mattresses.
Medium-sized
These offer a good mix of comfort, support, and stiffness. They are normally divided into two categories: medium-soft and medium-firm.
A Medium-soft mattress has the same luxurious outer layers as a soft mattress, with which your skin comes into contact. The mattress core or foundation, on the other hand, is made of tougher materials like synthetic latex. Medium-soft is ideal for sleepers who appreciate the gentle cradling of a soft mattress while yet needing a little extra support.
Medium Firm Mattress. The most common 'feel' for a mattress is medium-firm, and it is the industry standard for 'universal comfort.' They're popular among sleepers who move about a lot during the night. They'll adjust to your movements by conforming to your body while keeping you from sinking in. They will push back to provide support while still allowing you to move freely. If you share your bed, a medium-firm mattress is a fantastic choice because it can accommodate a variety of sleeping positions.
Firm
This type has a strong core and support layers that prevent any sinking into the mattress. This mattress is usually made of durable materials like latex and are more supportive for people who suffer from back discomfort. A firm mattress provides tailored support for both front and back sleepers by aligning the spine. For side sleepers, they're frequently inconvenient.
Conclusion
Purchase and shipping
The Ecosa Mattress, like other "bed in a box" items, may be ordered online and delivered to your door in a small box. There are no delivery charges, and shipment times are short (see our 'Delivery' section for more information). In many metro locations, 'same-day delivery is an option.
The Ecosa Mattress should take about 5 to 10 minutes to be unpacked but you have to wait 24 hours to let it decompress before testing it.
We received our box in the most pristine condition. Thanks to its strong wheels, the box is extremely easy to manoeuvre. Ecosa also includes a welcome pack (in the box) that includes a leaflet and a plastic cutter (to assist in the unboxing process).
It is a two-people job to unbox the mattress from the box, better not to undertake the task on your own.
From a visual standpoint, the Ecosa Mattress boasts a sleek, modern design. The colour scheme is grey and white, with Ecosa's signature blue brand label.
The final word
The Ecosa Mattress is a high-quality foam mattress with certain unique characteristics. It has a hard, solid feel to it, and you may alter the stiffness levels to your liking. Ecosa's popularity exploded in Australia, and the business has now transported its mattress to the United States due to popular demand. This firmer brand brings a surprising amount of diversity to the all-foam bed-in-a-box space, as well as outstanding motion isolation.
You may experience the gentle sink of memory foam without vanishing into the materials on the bed's softest setting, or you may flip the top layer over for a bouncy latex-like feel that the manufacturer claims is more durable than traditional materials. The firmest setting for the ultimate experience in spine alignment is achieved by placing the third layer on top, and the bed's total firmness can handle even individuals with substantially larger weight considerations.
If you've been looking for a firmer mattress that will adjust and change with your changing life, Australia might offer the answer. The corporation will only grow now that it has arrived in the United States.
To put it succinctly,
Design that is unique
It's adaptable — you can change the firmness.
Free trial for 100 nights
Are you looking for a better option? The Emma Mattress comes highly recommended.
Retail Price Recommendations
Super King Mattress: $1499
King Mattress: $1199
Queen Mattress: $1099
Double Mattress: $999
King Single Mattress: $899
Long Single Mattress: $849
Single Mattress: $799
Trial Period
100 nights
Warranty
15 years
Delivery Times
Free delivery Australia wide.
If you live in metropolitan areas of Melbourne, Sydney, Brisbane, Perth and Adelaide, your mattress can get to you within the same day.
Living outside the metro? Your order will still get to you quickly within 2-7 days!
Certifications – Ecosa Firmer Mattress
CertiPUR-US® Certified
OEKO-TEX® 100 Certified Covers
The mattress toppers are made from Tencel ™ and Oeko-Tex 100 Certified. They are natural and gentle on the skin, along with that they are also environmentally friendly.
Specifications – Ecosa Mattress
Weight (Queen): 32 kg
Height: 25.4 cm
Maximum Weight Limit: 300kg (Queen mattress)
CONSTRUCTION & MATERIALS – Ecosa Mattress
3-Layer Foam Construction
Continuously poured Dunlop Latex Foam
Ecosa™ G-7 Memory Foam
High-density Durable Base Support Foam
Premium poly 380g/m² Double Knitted fabric Zipper Cover
Waterproof breathable mattress protector
Frequently Asked Questions
Is Ecosa actually good?
The Ecosa Mattress is a good-quality foam mattress that comes with some unique features. Its firm, dense feel may not be to everyone's liking, but its customizable design does offer some degree of firmness adjustability.
Is Ecosa an Australian company?
Yes, Ecosa Mattress is based in Australia.
How long does the Ecosa mattress last?
With proper care, the Ecosa mattress can last up to 15 years.
Is Ecosa mattress toxic?
Our mattress foams contain no latex, no irritants and no harmful chemicals. We're proudly CertiPUR-US certified, and aim to keep our levels of assessed substances and emissions well below the approved minimum. Some mattress foams emit high levels of nasty Volatile Organic Compounds that compromise the air quality in your home, but Ecosa consciously ensure we work with the best quality materials and pass on the health benefits to you and the planet. Ecosa prides itself on its commitment to reducing the number of mattresses sent to landfill in Australia. Currently, over 1.2 million are sent to landfill, but we're aiming to slash this number. When Ecosa mattresses are returned to us, we donate them to our charity partners, reducing waste and giving back to those in need.
Does Ecosa mattress sag?
High-density memory foam, latex foam, and the use of low-gauge steel springs will make sagging less likely. On the flip side of this, high-gauge innerspring coils and low-density memory foam can reduce the lifespan of your mattress and make it less durable.
What firmness is Ecosa?
Mattress firmness is a highly subjective and personal matter. What's firm for you may not be firm for others, and what's soft for others may not be soft for you. Simply put, mattress firmness is the degree of softness or firmness a mattress feels when you first lie on it.That's just the tip of the iceberg – you need to look at weight, preferred sleeping positions, partner/pets/kids, and any ailments to find the right firmness for you.